So, in less than two weeks, I'm defending my thesis. Weird. In less than three weeks, we're leaving Provo for at least four years. Also weird. The last few times I've left Provo, I've known exactly when I was coming back. New things. We're going to Lexington, Kentucky for my PhD program. And then, who knows?
As far as the thesis defense, I'm thinking of using the following format for my presentation: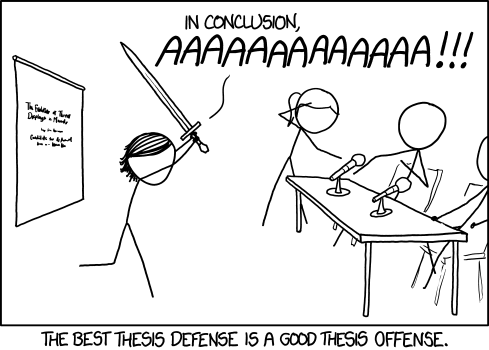 I'm pretty sure it would be effective.
And after the defense, which I'm hoping I pass without too many revisions, comes cleaning, returning library books, packing, moving, driving a long distance... I'm actually pretty excited for the trip out. We're going to stop in St. Louis and see the science center, where I haven't been in years. And they have an exhibit on androids, which is part of what my thesis is about, so I'm really excited to see it. And then unpacking and cleaning and organizing. Changes are interesting. I like them and I don't. I like going new places, but I don't want to leave the place I've lived the second-longest in my life. I love travel, but I am kind of tired of moving around. The good news is that I know where we're going to be for the next 4 years, minimum, and we have an apartment (probably). We are also going to adopt pets, as soon as we possibly can. One cat and one dog. It's been too long since I've had a cat. And I've never had a dog, so more new things there. Well, things are going well.